What is the Employer's Checklist?
Checking your company's compliance against the Employer's Checklist can help to highlight people problems in your business before they escalate.
Employment law is complex and coping on your own brings significant risk. The six following areas are considered to be high risk situations and need to follow official and compliant procedures.
Find out your score
What are the risks of a low score?
The 2019/2020 report on employment tribunals gives a clear indication of what can happen if HR processes are not implemented and followed. The below statistics show how claims can skyrocket.
For a free, no obligation discussion, please submit your details here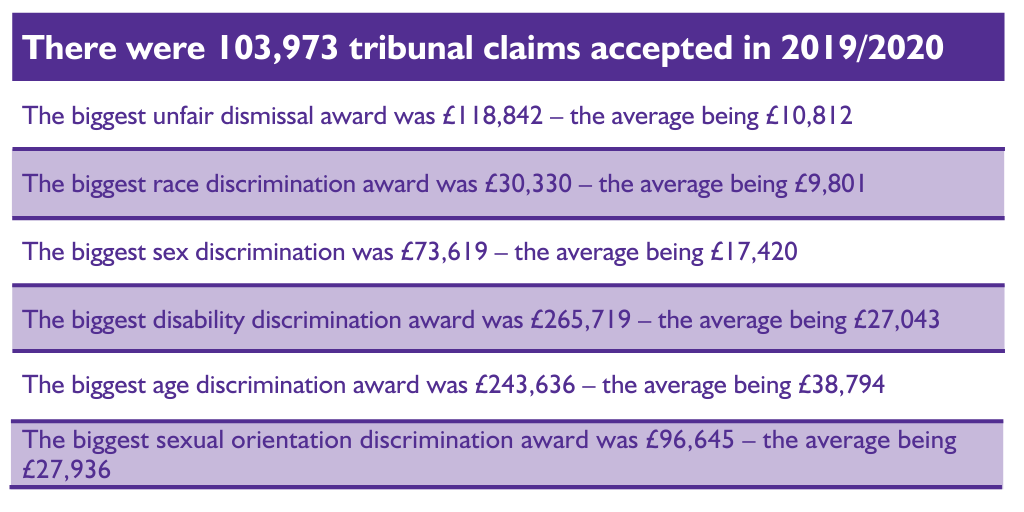 How can I score 6 out of 6
Ticking off the list is easy with an HR expert on your side. We're local and can advise you on all sorts of HR queries, not just those in the list.
Whether you are dealing with poor performing employees, sickness and absence issues, redundancies, buying or selling a business we can help.
Get in touch for a practical and pragmatic solution. Looking for expert HR support?
We can help you focus on your business by taking care of all your human resources needs.

Let us know how we can help or ask about our free initial HR review.
Preventing People Problems
Subscribe to our monthly newsletter
Office Address: Claydon House Business Centre, 1 Edison Road, Aylesbury, Bucks, HP19 8TE | VAT Number: 343 8421 05 | Registration Number: 12484658
Copyright © 2007 - 2021 The HR Dept Ltd. HR DEPT is a registered trademark belonging to The HR Dept Limited.