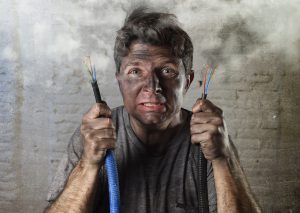 You started your business or got the job running it because you are really good at what you do. You have a passion for a product or a service, and you thrive from growth and success.
You know you don't have the skills for the legal bit, so you hire a solicitor to make sure your commercial contracts are robust. You also recognise that when it comes to filing year-end accounts and tax advice you probably need an expert, and therefore will have an accountant on hand.
So why, oh why, do business owners think that they can DIY employment law and HR?
Household DIY has become something of a national pastime, and a bank holiday would not be complete without a trip to a hardware store. But it is not always advisable to tackle every job yourself!
If you are lucky, you might save time and money taking on certain tasks like painting or putting up shelves. But there are also jobs where it would definitely work out cheaper in the long run to call in the experts. The same is true of HR in your business.
The biggest HR DIY mistakes
The biggest HR DIY error we see in SMEs is with the employment contract. This is the most important legal arrangement between you and your employee and it is designed to protect you both. All employees must have an employment contract with their employer. This must be issued within eight weeks of an employee starting their role. It will set out employment conditions, rights, responsibilities and duties.
Free downloads and templates are just not going to be suitable for your specific business. They will no doubt have key clauses missing that would otherwise protect you. Employment contracts that are borrowed often give unaffordable benefits or totally inappropriate restrictions or clauses that are not applicable to your staff. Downloaded or borrowed legal documents may also be out of date. How do you trust the source?
So, we are going to set out the contract DIY mistakes you are opening yourself up to. We implore you to call in the experts to save you time and money in the long run!
Common HR DIY contract mistakes
1. Wrong employment status
The first big mistake is the nature of the employment itself: Self-employed/contractor, worker, employee, part-time, zero-hours etc. Employers often decide to engage people on the wrong type of contract, opening themselves up to holiday or sick pay claims later on. It's really complex as recent high-profile cases such as Uber show. Get expert advice on the status of your staff to save you time, money and a headache later on.
2. Extra (and costly) liabilities
Borrowing contracts from other companies, or cutting and pasting a contract you were employed on in a previous life, can lead to unintended or extreme generosity!
We frequently come across contracts that are wholly unsuitable for an SME that give executive level benefits packages (which would be fine if done with intent and the business can afford it). These then leave businesses wide open to huge costs they didn't really need or want!
Contracts borrowed from the public sector can be even more costly to an SME. What about unaffordable sick pay giving six months full pay and six months half pay? Ouch!
3. Making disciplinary and grievance procedures contractual
It is commercially in your interests to not have the disciplinary and grievance procedure contractually binding. There may be times you don't want or need to follow these processes. Making it contractual restricts you and puts you at risk of being in breach of your own contract!
4. Missing vital clauses
Missing specific or express clauses
Specific clauses in relation to the business requirements are called express clauses. For example, if your business is retail then a handling cash responsibility clause would be required for your staff. Or if your company has employees driving vehicles, then driving clauses need to be added.
A downloaded generic template will not have the specific clauses you need for your industry or employee make up. If you have these missing, you have little to guide you if things go wrong. Sometimes you may have no right to recourse.
Missing statutory minimums
One DIY contract botch job we came across recently was drawn up in-house at a company and didn't meet the statutory minimums for notice periods. Totally illegal!
Missing right to dismiss for gross misconduct
This is a seriously necessary business protection. If this is missing you can be exposed to breach of contract claims. DIY it or download something cheap and not so cheerful and your hands could be tied in the future.
5. Over the top restrictions
Time and time again we see inappropriate and unnecessary restrictive covenants placed on the whole staff body. This is because a contract has been borrowed from another company for a different role, and then applied to a whole staff team. We have seen a cleaner being bound by a restrictive covenant that prevented them from going and working in finance and tax for 12 months after leaving employment! In addition, if you put restrictive covenants in everyone's contracts, it could make them all completely unenforceable!
6. Out-of-date clauses
If you borrow or download a contract you run the risk of it being incorrect and out-of-date to start with. For example, including a retirement age of 65 (which has not been legal for a while now) is age discriminatory.
7. Covering your business for all things holiday related
We see mistakes on holiday entitlements regularly in employment contracts. There are legal minimums for holiday entitlements and rules around sickness on holiday. Businesses must make sure these are set out clearly in their contracts. Mistakes can cost the business and possibly put you at risk of breaking the law!
8. Making the staff handbook contractual
Big mistake! This is totally unnecessary and can leave you wide open to breach of contract claims. You are essentially making all your company polices contractual. So if and when you want to change them you have contractual negotiations to do with staff! SMEs need the flexibility to add and change their business policies as needed.
9. Contract is not GDPR compliant
With GDPR there are lots of HR things that businesses need to do to be compliant. One of those is amending their employment contracts and handbooks including reference to GDPR in it and update data protection clauses and policies along with a whole host of other HR bits and pieces. This one is definitely not a DIY job as the fines could be astronomical!
How to get a fit-for-purpose employment contract
Every business needs a robust employment contract that is bespoke to them, fit for purpose, is legal and up to date and protects them against any eventuality. You are simply not going to get this from a template download or a DIY job. So please, for the sake of your business's bottom line and your stress levels, get the professionals in before you need to shout "Help! HR DIY SOS".