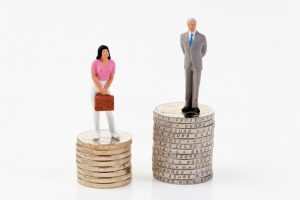 It's kind of obvious that no matter who does a job, they'd be paid the same. What does it matter if they're male or female?
But boys and girls get the message very early on that men earn more, with boys on average being given  20% more pocket money than girls. So the message and inequality starts here. Research has also learned that boys are allowed more freedom on how they spend their money. Being paid less and having parents exerting control over how they spend their money is an introduction to being seen as of less value.
So it 's not surprising to find out how many women are doing work of equal value as men but are paid less for it despite the Equal Pay Act 1970. This is the campaign for equal pay and it is shocking that the fight is still going on.
Back pay claims surge
Equal pay is the law. Men and women must be paid the same for work of equal value and the cost of getting it wrong can be quite considerable. Recently, supermarkets are being taken to the dock with both Tesco and Morrisons being taken to court for £100m in back pay.
This week, a Scottish council has settled all its equal pay claims from over 500 current and former employees for an undisclosed amount (although back pay claims can often run into the tens and hundreds of thousands of pounds).
And recently female stars at the BBC have written on the need for more pay transparency to make sure everyone is being paid the same. TV presenters have often fought for equal pay, but discussing salaries has often been taboo.
Ruth Langsford, a host of 'This Morning' insists on being paid the same as co-host and husband Eamonn Holmes, commenting: "I basically wouldn't work for them if they weren't paying me the same if I'm doing the same job, whether I'm with my husband or any other male co-presenter."
Ms Hayes, chief executive of charity the Women's Resource Centre, said: "We are here again, year after year lamenting the seemingly impervious issue of equal pay for men and women.
"Even though we have had a law since 1970 outlawing the practice of sex discrimination in pay, our progress is probably not even at a snail's pace"
Come on employers instead of us just celebrating International Women's Day let us make it the year that becomes the year of equal pay, starting with your children!
Equal pay for equal work
Getting it right is so important to avoid a huge employment tribunal claim. Get in touch with The HR Dept to find out more about how to make sure your staff are being paid equally.