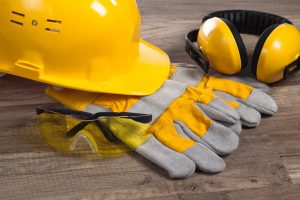 In some sectors, personal protective equipment (PPE), which includes protective clothing, is essential. But it's also important for employers to understand that PPE should be considered as the last line of defence for your staff. In other words you must carry out all other possible controls to eliminate or manage hazards before you come to PPE.
So if your team are working with harmful fumes or dusts, LEV extraction equipment should be explored first. Or if employees are working at height, appropriate scaffolding or other environmental controls should be in place before any protective clothing or equipment is considered.
Once you have implemented other controls, only then is it time to work out what PPE is required. Whatever you decide is appropriate, you have a legal responsibility to choose personal protective equipment carefully, supply it free of charge, maintain it properly and train staff in how to use it.
Jobs where personal protective equipment is important
Farming, construction, roofing and waste collection are among the most dangerous jobs in the UK. They have accounted for hundreds of fatalities over the past ten years. Falling from height and being struck by vehicles are two of the most common causes of fatal accidents.
Protective clothing and equipment can play a role in preventing these types of death and in these sectors. But it is not just fatalities to be wary of. PPE can play an important role in preventing non-fatal accidents and the onset of long-term health conditions.
What is protective clothing and equipment?
PPE is clothing and equipment worn by individual workers that protects them from physical hazards. It can range from a pair of safety goggles, boots with protected toecaps and high-vis jackets, to full blown chemical body suits.
How do you choose the right PPE?
Some of the risks posed in the workplace which can be controlled by PPE include exposure to extreme temperatures, contact with toxic or corrosive substances, being hit or crushed by machinery and vehicles, being struck by falling objects, and breathing-in harmful vapours, fumes and dusts.
You need to choose what is right for the risks posed to your employees. Think about who is exposed and to what extent. The Personal Protective Equipment Regulations 2002 say the equipment must carry the CE mark. And ensure that it will fit the people who will actually be wearing it. It is also important to think whether any equipment you used could cause a hazard itself.
For example, could those heavy duty gloves used to protect the hands from flying sparks get caught in machinery? Could the safety glasses that are protecting the eyes from stinging fumes inhibit the wearer's field of vision when vehicles are about? Or might some goggles prevent a respirator from properly covering the mouth and nose?
PPE training and maintenance
Your PPE obligations are not complete once you have supplied the correct equipment and clothing. It is also important to train your staff in the proper use of PPE and ensure it is looked after. This includes suitable storage, spare equipment and systems for maintenance and reporting damaged or faulty equipment.
Need help with your protective clothing and equipment in the workplace?
So protective clothing and equipment is important in the workplace and there is a little more to it than meets the eye. Our expert team at The Health & Safety Dept can help you navigate this complicated area. To find out more, give us a call on 0345 208 1120.