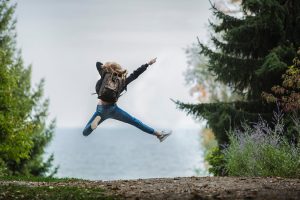 Written by The HR Dept Bristol, Bath & North Somerset
Today, 109 years ago the first International Women's Day was celebrated to commemorate the movement for women's rights. It is a time to reflect on progress made, to call for change and to celebrate acts of courage and determination from women.
So, how far have women's rights advanced in a century?
100 years ago women were prevented from doing these things by law:
Applying for a credit card or loan in their own name
Working in the legal profession and civil service
Inheriting property on the same terms as men
Claiming equal pay for doing the same work as men
Prosecuting a spouse for rape
Shocking to think!
Most will read that list and say: "wow, women's rights have come so far". But actually, a whole century has passed and women still continue to face the same gender equality barriers and prejudice, as highlighted by today's gender pay gap, #TimesUp movement and countless examples of everyday sexism and sexual harassment.
In another 100 years, will there be gender parity then?
Will society look back on today and be as stunned by this list of 2018's gender inequality challenges:
Half of British women experience harassment in the workplace
74% of companies pay a higher hourly rate to men than to women and there is a gender pay gap of 9.4%
100,000 mothers a year experience harassment or negative comments related to pregnancy from their employer or colleagues.
Only 28% of FTSE100 boards are made up of at least 30% women.
Stereotypes discourage women to work in the science, technology, engineering, and maths (STEM) industries
Even though over 100 years has passed since the first International Women's Day, these challenges prove there is a still a lot of progress to be made. But now more than ever the call to keep motivated and make change has never been stronger.
Whilst we know that gender parity has not, and will not happen overnight, positive change is starting to happen. So, let's #PressForProgress in aid of International Women's Day 2018!
Sexual harassment in the workplace – So what can be done?
Employers have a duty of care to their employees and should be making every effort to guarantee their workers are safe and supported by their company's leadership.
Make sure sexual harassment policies are in writing and complaints procedures are in place.
Ensure staff have adequate training on these policies and procedures.
Actively encourage reporting in the workplace, so employees know they have a safe place to talk.
Encourage the expected company culture. Make it undeniably clear that this type of behaviour will not be tolerated and action will be taken!
How do we close the gender pay gap?
In the UK today women earn on average 18% less than men and there is currently no explanation for the majority of this gender pay gap.
To begin to tackle this the Government has introduced Employers with more than 250 employees must now report their gender pay gap on their website as well as the Government's.
Research shows that a more diverse workforce helps business by providing an increased talent pool with new skills, creativity and opinions. Recognise the benefits of diversity; value women for what they offer – empathy, emotional intelligence rather than command and control. Bring the differences to the table to create new solutions to today's complex problems.
Employers should promote shared parental leave allowing a mother to exchange her maternity leave for shared parental leave. By encouraging this, mothers now have the opportunity to go back to work sooner.
Be open minded and flexible with how a pregnant employee's work is carried out. Look to organise jobs different, perhaps make them part time or job shares.
How to put an end to maternity discrimination.
The Government's research shows that pregnancy discrimination has increased dramatically since 2005. What can employers do to fight this?
Have maternity policies in place, including managing absence, the maternity leave period and the return to work policy.
Raise awareness amongst line managers of their legal obligations.
Protection must be put in place – employers must carry out a health and safety risk assessment if an employee is pregnant.
Employers must stop thinking negatively about maternity leave and see it as a positive time!
How to grow the 30% club.
The 30% club has been put in place with a goal of achieving a minimum of 30% women on FTSE100 boards. Let's help it grow:
Remember diversity is the key to success. Having a diverse board shares innovations that work!
Give more talented women the experience needed to successfully apply for senior level positions, ultimately increasing the number of women appointed onto boards.
Offer training and development to reduce disadvantages.
Join campaign organisations such as 30% Club or Board Apprentice or The Future Boards Schemes.
Let's encourage women to get jobs within STEM industries.
Women are far from being equally represented within the STEM industries (science, technology, engineering, maths) and they currently only make up 24% of the workforce. Let's bust the myth that technical jobs are for men!
The culture of organisations that contain STEM roles should be welcoming to women.
Employers within these industries should get all younger people excited about STEM roles by providing opportunities such as apprenticeships or internships.
Become role models and do not stereotype.
Everything mentioned above is all positive change for gender equality in the workplace and it is clear things are starting to change. So, let's continue to #PressForProgress in aid of International Women's Day 2018.
If you would like to talk to The HR Dept about any of the issues mentioned above or would like support to make sure your workplace is a safe, equal environment for all, please do get in touch with us on 0117 970 2955 or email advice@hrdept.co.uk.