Written by HR Dept Bristol, North Somerset & Bath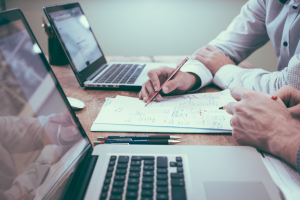 HR faced many adjustments throughout 2017, with change after change in regulations and employment law, and having played a crucial role in the year's controversies; it's no surprise that 2018 is on track to set a new round of trends that are likely to significantly shape our HR approach.
Here's an indication of what HR can expect from 2018, together with some tips you can put into practice and incorporate into your HR strategy:
Think about your employees' experience
With the correlation between employee engagement and customer experience becoming seemingly apparent, it is now more important than ever to ensure companies keep a happy workforce. To do this, businesses should be considering their employees' experience, taking into consideration elements such as work culture, performance management as well as employee engagement.
But unfortunately studies reveal that only a small percentage would rate their employee experience as 10 out of 10.
Rather than organise your employees in standard groupings such as job title, rank or salary, instead recognise their simple desires and drivers when designing your employees' experience. For example consider their working style and training needs or technical needs, or consider wellness perks like weekly yoga or meditation classes.
Fight sexual harassment
With headlines towards the end of 2017 filled with #MeToo and #TIMESUP sexual harassment campaigns, employers (with the help of their HR) should be making every effort to guarantee their workers are safe and supported by their company's leadership.
Set the tone of the culture in your workplace; make it undeniably clear that sexual harassment will not be tolerated! Also make sure official anti-harassment policies are down in writing, setting the standards of what's expected from your staff.
Consider skills gaps
It's becoming more apparent that there is a persistent skills gap problem within the workplace, with half of SMEs' staff lacking full know-how; consequently slowing productivity and ability to grow. But in the effort to tackle this, many businesses are taking the initiative to partner with local schools and council programmes to associate with future talent with the aim of preparing the next generation for work.
Think about creating a culture of development in your workplace to fill skills gaps. Consider apprenticeships or even placements for students with the opportunity of a permanent position at the end of their degree. A more cost-effective solution compared to the costs of recruitment.
Think about digitalising your HR
There are digital solutions within HR that have the opportunity to transform employee experience and productivity.
Through integrated HR applications and software like The HR Toolkit your business could develop streamline HR processes. By analysing employee data and providing an all-inclusive hub for employees (handling requests such as annual leave and sickness absences) digitalising your HR and providing HR software can ultimately improve productivity and efficiency as well as taking away any admin hassle.
All of these trends are pointed towards businesses building better workplaces for 2018, and whilst these HR trends may be challenges, businesses are likely to be highly rewarded with greater employee productivity and loyalty!
If you would like to talk to the team about improving your HR approach or for more information on any of the trends mentioned above, get in contact and we can talk you through your options. Call 0117 970 2955 or feel free to email: advice@hrdept.co.uk.