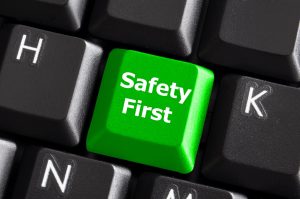 Every month the Health and Safety Executive publishes dozens of press releases. They describe prosecutions that they have concluded against firms which have experienced serious health and safety breaches.
These are examples of what happens when you get health and safety badly wrong. In all cases, people have been exposed to risk. And sadly, sometimes, injury or death has occurred. We've taken a look at three recent examples to show what can go wrong, what the consequences are, and how the risks could have been mitigated.
Asbestos removal
For property and construction firms, asbestos should be a well-known risk. Disturbed asbestos causes a range of often fatal diseases when inhaled, such as lung cancer, mesothelioma and fibrosis. But they tend to take many years, even decades, to develop. Figures from the HSE show that about 5,000 people die every year as a result of past exposure to asbestos.
In May 2018 a residential property firm and an installation contractor were fined more than £5,000 and £18,000 respectively. This was following a failure to protect residents and workers from asbestos. The alarm was raised by a concerned resident whilst soffit replacement work was being carried out. It was established that the property firm had done no checks to see if asbestos was present, while the installation contractor had identified that asbestos was a factor, but had begun work without putting adequate precautions in place.
The risk could have been mitigated if the firms had taken steps to identify the type of asbestos and brought in a contractor who was qualified to undertake the work safely.
Dangerous machinery
Businesses in many sectors use machinery that has the potential to cut, crush or burn workers. Therefore it is essential that risk assessments are carried out, and measures put in place to ensure safety. According to the 2017 annual statistics from the Health and Safety Executive, there were nearly 25,000 non-fatal accidents caused by contact with machinery.
Last month, two partners in a farming firm were fined a combined £10,000 plus legal costs after a worker's arm was seriously injured when it was caught in a potato grading machine. Whilst trying to check the machine was emptying correctly, he had climbed onto the side and stretched across to move the remaining potatoes. Whilst doing this, his glove was caught by the rollers and drew his arm into the machinery.
A risk assessment should have identified the potential for this to have happened. It could have been prevented if guards for the rollers had been installed and a safe stop procedure had been followed.
Electric shock
It goes without saying that virtually all businesses use electricity. Most of the time this will be perfectly safe. But if equipment or installations are in poor condition, there comes the risk of electric shock or fire. In June 2018 Swansea Crown Court jailed a man for 18 weeks for causing a worker to sustain serious injuries through electric shock.
The worker was electrocuted after plugging a piece of equipment into a plug socket. The socket was found to be unsafe and not suited to business use. It had exposed wires and there was evidence of water damage in the wall, probably caused by a leaking roof.
Electrical safety is relevant to almost all businesses. Regular inspection and maintenance is the key to ensuring that electrical equipment and installations do not degrade and become a hazard.
Keep people safe and yourself out of court
These three examples are just a flavour of the recent prosecutions that the Health and Safety Executive have successfully made. They hint at the variety of risks that are out there. All employers need to take health and safety seriously – for the sake of the people in their business as well as their legal obligations.
If you want to ensure your health and safety procedures are fit for purpose, then contact one of our expert team at The Health and Safety Dept.