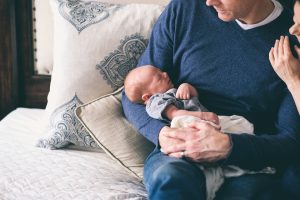 The first thoughts when someone is pregnant is to immediately congratulate them, but then the panic sets in, with questions like "what does this mean for my business?" – The main concern is how to fill the gap and how to deal with the complexities of maternity leave.
The UK Government recognising the need for both parents to be involved in childcare introduced shared parental leave but less than 2% of eligible parents have taken this up.
But why?
Well the first and biggest reason is money. Most companies pay statutory maternity/paternity pay and with men frequently being the higher earner the couples simply cannot afford it.
It is also not well known and so complicated that many businesses do not actively support it.
The UK Government are starting a campaign to raise awareness of how the different types of parental leave work and how it can offer more flexible options.
#VictoriaLIVE men won't take parental leave till the gender pay gap is addressed, and pay for caring and feminised jobs increases.

— Anisa Mustafa (@AnisaMussi) February 12, 2018
This all seems a bit complex?
It can be. Shared parental leave is very tricky and the low uptake shows how complex it is. We're pleased to see the UK Government are highlighting this and looking to make it a bit simpler for people to understand and hopefully businesses to process.
In a nutshell, Shared Parental Leave is a right that gives employees in different companies the right to share:
Up to 50 weeks leave (37 weeks are paid).
Parents can take time off separately or alternate the time off or they can take time off together.
The first two weeks the Mother has to take off or four weeks if it is a factory environment. The remaining part of the first six weeks is paid at 90% of earnings or the statutory rate whichever is the lower and after that leave is paid at £140.98/week.
There are conditions and a procedure to follow, but The HR Dept has all the forms and letters to hand so we can guide you through the process and avoid any discrimination claim with unlimited tribunal payouts.
Is it a good idea?
Overall yes. If both parents took leave the argument against employing women of childbearing age is finished once and for all but for that to happen the fight for equal pay also needs to be won. It does cost the business money to recruit and time in handing over, but shared parental leave actually means overall, both parents return to work quicker.
Flexible working often means more motivated and productive employees and shared parental leave will mean fathers don't have to miss out on their baby's first steps.
Our South London director, Fintan O'Toole appeared on BBC News this morning to discuss the issue, saying split shared parental leave was beneficial for businesses as parents are out of their role for a shorter amount of time and although there can be more to be done to promote the scheme, the legislation is too complex and it could be made easier.
"Shared Parental Leave just isn't as well known as it could be. A straw poll from my colleagues in The HR Dept said out of the 100,000 people we look after, only half a dozen applications had been made." – Fintan from @HRDeptSLondon pic.twitter.com/NdyqUup6pb

— The HR Dept (@TheHRDept) February 12, 2018
The HR Dept are experts in advising small businesses on how to handle family situations like pregnancy and can help you work out what entitlements staff have and what rates they would be paid. We get to know your business and we make sure the right documents are tailored for your setup, no stock templates that could land you in court!
Get in touch today if you want to know more about shared parental leave or need some guidance on maternity.