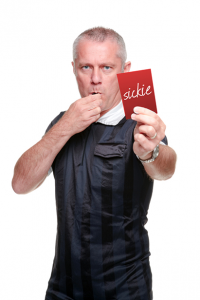 Dubbed National Sickie Day, the first Monday in February sees an estimated 350,000 employees call in sick, due at least in part to a combination of post-Christmas blues and horrible weather. But of course having staff off sick isn't just a seasonal issue, it affects businesses all year round – costing the UK economy a whopping £29 billion every year (PwC).
Here are our top tips for managing sickness absence in your business:
Have a clear absence policy. Include the notification process, the purpose of return to work interviews, and any triggers of disciplinary action. The policy must apply equally to all staff.
Record absences. You can't manage absences effectively if you don't monitor them. You don't need a complex system – even an Excel spreadsheet with a record for each employee will suffice for small businesses.
Hold return to work interviews. As well as deterring unnecessary absences, return to work interviews help to ensure that the person's return to work is managed smoothly. They provide an opportunity to identify any underlying issues, giving you the chance to implement measures that will help to minimise future absences.
Offer flexible working. Flexible working can help to improve the health and wellbeing of employees and, by extension, reduce absenteeism. It isn't necessarily about allowing part-time hours or working from home – it might, for example, be appropriate to offer an extended period of unpaid leave to help the individual cope better with their illness.
Monitor the impact on other employees. When an individual is off sick, particularly when the absence is for a long period, or a fairly regular occurrence, other employees can end up picking up the slack, which can in turn affect their own health and wellbeing. Ensure that managers monitor the impact of sickness absence on other team members, and take action to ensure that no one feels overloaded or underappreciated.
Offer an Employee Assistance Programme (EAP). EAPs give confidential information, support and counselling to employees on a whole range of issues, encompassing work and personal life. Costing as little as £15 per employee per year (XpertHR), they are far cheaper than even a single day of sickness absence.
Provide wellbeing training. Managers and workers alike can benefit hugely from training on how to cope with mental health problems and other wellbeing issues, all of which can have a significant impact on absence levels.
Though having employees take time off work with sickness can't be eradicated, its impact to your business can be minimised through robust procedures, good communication, and thoughtful training. For advice on managing sickness absence effectively in your organisation, call The HR Dept on 0345 634 9154.