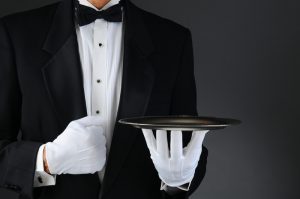 Most jobs, especially in hospitality, catering and the retail sector, will require staff to wear a uniform. But did you know that if you don't provide the uniform, you could be in breach of the National Minimum or Living Wages for that pay period?
Uniforms should always be provided, or the cost covered, to avoid staff effectively being underpaid. There are a few items that staff may pay for, but unless refunded by the employer, the costs incurred by the staff have to be taken into account when calculating the minimum wage, such as:
Tools
Uniform
Safety equipment
What is a uniform?
Even stipulating the colour of clothes, such as bar staff to wear black clothing, could mean that in their first few shifts they might be being underpaid.
Where employees are required to rent a uniform or buy clothes to fit a uniform policy, the amount spent cannot be included when calculating minimum or living wages if it is not refunded by the employer.
What would this look like?
For example, a new staff member (aged over 25) who is paid weekly works 20 hours a week on £7.50/hour. In their first week, they'd earn £150. If they pay £30 for a uniform, this would mean they earned (£150 – £30 = £120) or £6/hour, below the legal minimum or living wages.
The lowest possible hourly rate depends on the age of the staff member:
| | | | | | |
| --- | --- | --- | --- | --- | --- |
| Employee age: | 25+ | 21-24 | 18-20 | <18 | Apprentice |
| From April 2017 | £7.50 | £7.05 | £5.60 | £4.05 | £3.50 |
| From April 2018 | £7.83 | £7.38 | £5.90 | £4.20 | £3.70 |
What can I do?
Ideally, uniforms should be provided for all staff – but this can be either expensive or difficult to manage when engaging multiple casual workers.
Repaying staff for uniforms may be a more flexible option, especially for businesses with high staff turnover or seasonal jobs.
Being aware of the pay period is crucial in these situations. Sometimes even making payments monthly instead of weekly can spread the cost to ensure it doesn't fall below the minimum or living wage.
If you need advice on staff uniforms and how they can impact the wages of your employees, contact The HR Dept.