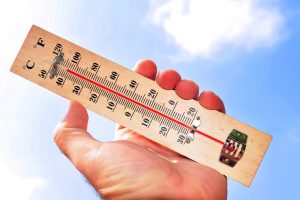 The Met Office have announced that temperatures are set to remain scorching this week. So we look at some of the Health and Safety factors to consider as an employer, ensuring both legal compliance and the welfare of your employees.
The main piece of UK Health and Safety legislation to mention here is the Health and Safety Work Act 1974. This suggests that as an employer you have a responsibility to your staff 'to ensure, so far as is reasonably practicable, the health, safety and welfare at work' of all employees.
Surprisingly there is no current legislation to say what temperature is reasonably acceptable to work in during the summer months. However, in comparison during winter conditions the law states that temperatures indoors for sedentary work should be at least 16 degrees.
What precautionary measures can I take as an employer?
The heat has the potential to make your workforce less productive, tired or even, in more severe cases, cause heat exhaustion or dehydration. In turn this could lead to your staff being less aware of other potential hazards in their working environment.
It is therefore important to ensure that they have access to drinking water and an adequate supply of fresh air and ventilation. This is reinforced by the Workplace (Health, Safety and Welfare) Regulations 1992.
If your staff work in an office environment, you could consider providing fans or air conditioning units to bring down the temperatures.
If your staff work outside, could you look to stagger their working hours, meaning they are not working during the hottest parts of the day? Or could you allow them to take extended breaks to reduce their exposure? For these outdoor workers make sure that they have access to a shady cool place and lots of cold water.
To ensure you're making the right decision for your employees, you should undertake a risk assessment and take into account all of the factors. For example, have you got a pregnant employee?  They will need extra control measures in this heatwave.
Be mindful of the different working environments and individual circumstances of your employees. Where relevant implement some of these simple precautionary measures. That way you will ensure that your staff continue to carry out their roles effectively but safely in these increasing temperatures.
For further Health and Safety advice, contact our specialist H & S team: