Having great HR in the workplace is essential to help your business grow.  When a problem does arise it is usually either caused by or has an impact on your employees.
It's then your responsibility to resolve these situations quickly and effectively.
This can be stressful and take time, but more importantly it takes you away from focusing on what you do best – running your business.
You don't need to employ your own HR Manager or talk to a Solicitor.
The Newcastle team is headed by Jayne Hart who has extensive experience working with both small businesses, public sector and charities. Jayne and her team understand the unique challenges small businesses face and have developed a full HR and employment law service to meet these demands. We all know that sometimes an individual is determined to make a tribunal claim even when you have done everything correctly. So for added reassurance our Advice Line Clients also benefit from the backing of our employment tribunal indemnity insurance which will cover legal costs and awards, subject to our Advice being taken.
The HR Dept Newcastle's service is ideal for businesses who would like access to experienced HR practitioners combined with regular onsite support. The team are contactable by email and telephone or can come to your office to discuss tricky or important people issues.
Based in the heart of the North East, the HR Dept provides support and advice on the full range of HR issues including:
HR Dept Newcastle offers a flexible and affordable outsourced employment law solution that covers your business against financial losses and people issues by providing a service which includes:
A FREE initial consultation and HR Health check and Review
INCLUSIVE insurance against the risks of employment tribunal expenses and claims
UNLIMITED telephone and email advice on any HR and employment law issue
Help & support provided by expert HR & Employment Law professionals
Step-by-step practical advice you can act upon, quickly, efficiently and legally
All the legal letters and documentation tailored to your needs
Onsite visits at your business to provide practical support as and when you need it
So, if you're one of the many employers who are..
Spending more time managing people problems than growing your business
Frustrated by all the red tape that goes with employing people
Having to dismiss someone but unsure of the legal process
Need a practical solution to a people problem
Worried about expensive solicitor fees or tribunal claims
Struggling to keep up with ever changing employment law
.. then you need to talk to us for fast, affordable access to comprehensive HR support tailored to your specific needs.
Your business is unique so that is why we offer a very local and personal service, we are definitely not a call centre. It's like having your own HR Manager on the end of the phone, someone who knows you, your business and can provide immediate advice you can act upon.
You will be surprised at how little our personal and local service costs and if you end up on the wrong side of an employment tribunal – can you really afford the alternative?
The HR Dept works with a wide range of North East businesses including:
High tech, web and IT companies
Manufacturing
Accountants
Professional services
Hospitality
Retailers
Engineers, construction companies and architects
Property and estate agents
Charities
So if you are a business in the Newcastle, Gateshead, South Tyneside or surrounding areas and in need of outsourced HR support, please call Jayne now. Don't forget to request your FREE review of your existing contracts and handbooks.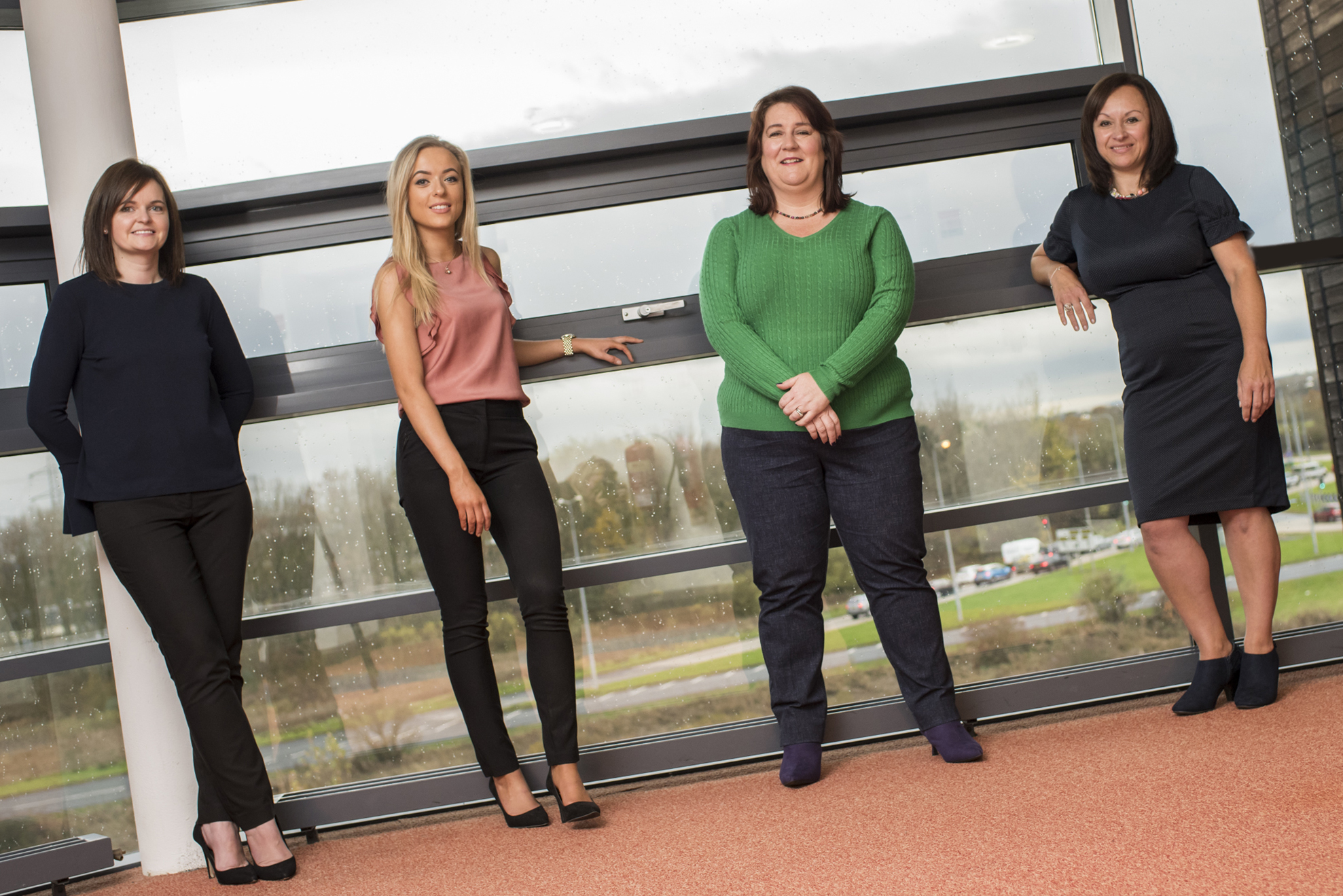 Jayne Hart (MCIPD)
Director
Why I love supporting businesses with their HR
I am a very practical and approachable individual who is passionate about people, has a flair for seeking out sensible solutions and loves nothing more than rolling my sleeves up and getting stuck in to solve a problem! I pride myself on being able to get to the nub of the issue and being able to explain complex issues in plain English. It's already hard – why make it harder!
Laura Lenaghan (Assoc. CIPD)
HR Advisor
Why I love supporting businesses with their HR
Our clients are so diverse in their needs and I enjoy being able to support them all the way through what can often be highly sensitive and complex issues, providing much needed support and guidance to managers to resolve issues effectively. I like the fact that we get to know our clients so I can feel part of their team and really add value.
Emma-Leigh Miller (Assoc. CIPD)
HR Advisor
Why I love supporting businesses with their HR
I am a recent Business and Management graduate, with a background of working in Human Resources within different industries. I believe I am an approachable individual, who is passionate about all things HR related. The diverse nature of the role at the HR Dept offers the opportunity to build up client relationships, as well as providing effective guidance and support when it comes assisting with their HR issues.
Lisa Thompson (Assoc. CIPD)
HR Operations Manager
Why I love supporting businesses with their HR
I am a pragmatic and approachable individual who has worked in Human Resources for many years in different business sectors.  I pride myself on providing excellent customer service and enjoy problem solving and all things people related.  I love that supporting our clients provides such diversity and enjoy building relationships and working with them to solve their people related problems in a professional and friendly manner.  I love a challenge!
Craig Dobson (Assoc. CIPD)
HR Advisor
Why I love supporting businesses with their HR
HR requires engaging with a variety of different matters, people and industries. I love this because it challenges me and allows me to develop not only myself but a local business and its workforce, which in turn benefits the local economy and community. Never mind the fact, that I love to meet new people and help solve problems.
Nicola Linkleter
Senior HR Advisor
Why I love supporting businesses with their HR
As an experienced HR professional, with a strong manufacturing background,  I am proud to credibly advise on and deliver efficient, practical solutions covering a diverse spectrum of employment related matters.
I love generating, proposing and delivering proactive HR ideas and strategies, for the mutual benefit of the business and the employee.  Engendering  positive and harmonious employment working relationships and environments is a genuine passion of mine and in my experience this approach makes a difference in any workplace.
Hannah Parkin
HR and Business Administrator
Why I love supporting businesses with their HR
I have completed a CIPD Level 3 have a background in administration with an interest in Human Resources that I am developing at a rate of knots with The HR Dept. I am very much involved in delivering recruitment on behalf of our clients and often support the team of HR Advisors with their clients.
I love working in HR as I enjoy problem solving and meeting new people. I am looking forward to further developing my skills and learning something new. Looking for expert HR support?
We can help you focus on your business by taking care of all your human resources needs.
Let us know how we can help or ask about our free initial HR review.
Preventing People Problems
Subscribe to our monthly newsletter
Office Address: 49 Fowler Street, South Shields, NE33 1NS | VAT Number: 184190500 | Registration Number: 8942403
Copyright © 2007 - 2019 The HR Dept Ltd. HR DEPT is a registered trademark belonging to The HR Dept Limited.