Running a business isn't always easy, and finding a trusted local provider of business focused and common-sense HR advice and Health & Safety support can be a challenge. Look no further.
Local businesses, run by people like you, outsource their HR/H&S because it is easier and more cost effective than doing it yourself. Local businesses say that their business is now stronger and safer and they love the peace of mind they now have.
Do you have these business challenges?
You rely on a call centre or Google for expert advice
You don't know if you are legally compliant for H&S and HR?
You are under threat of an Employment Tribunal / H&S claim or are concerned by the removal of Employment Tribunal fees
You have tight budgets and inadequate insurance and don't have time to 'do' HR or H&S
You spend too much of your time dealing with HR or H&S problems
You would like to train / develop your staff more
How can the HR Dept Edinburgh & the Lothians help you?
Solutions will be found that work for you
You will be told what you can do not what you can't!
You will have a named local expert to support you with unlimited advice and support
Affordable monthly retained fees on 12-month contracts
Your retained service is backed by market leading insurance
You can up-skill yourself or your managers through locally delivered training programmes
Services include:
| | |
| --- | --- |
| HR consultancy | Absence management |
| Employment law | Appraisals process |
| Contracts of employment | Redundancy management |
| Disciplinary and grievance | TUPE transfers |
| Performance management | Employee satisfaction surveys |
| Training and development | Employee counselling |
| Health and Safety | Staff discounts |
Why not get in touch today and start getting the support you need?
The HR Dept Edinburgh & the Lothians covers the City of Edinburgh, East Lothian, Midlothian and West Lothian.
We are a proud Premier Partner of the Midlothian and East Lothian Chamber, find out more here.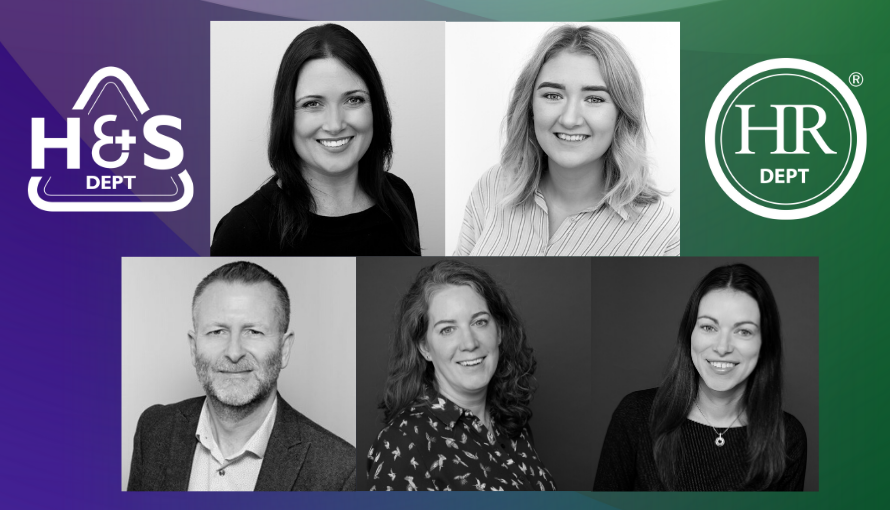 Ciara McGovern
Managing Director
Ciara has over 16 years HR experience in both the private and public sectors and has managed the full range of HR services, delivering success projects and advice to diverse teams and businesses. Ciara works with a wide range of SME and third sector clients across many sectors.
Ciara has lived in Scotland for the last 21 years and enjoys travelling to places on her "bucket list" and socialising in the wonderful city of Edinburgh
Ian Pilbeam
CEO
Ian heads up the HR Dept Edinburgh & the Lothians team. With nearly 30 years HR experience, Ian has a wealth of experience in helping businesses to ensure success through their people, be legally compliant and handle tricky people issues. As a business owner himself, Ian understands the challenges that come with running and growing a business.
Ian's straightforward, honest approach to any client has made him a trusted partner among dozens of organisations, across a wide range of sectors, looking to avoid people problems or manage difficult situations. He is known for his ability to explain complex concepts simply and to make learning fun and enjoyable.
Ian lives in Edinburgh and is a huge sport and music fan, with an insatiable appetite for world travel fuelled by his round the world trip with his family a few years ago.
Tristen Bellringer
Health and Safety Advisor
Health and Safety is not one size fits all. Tristen is passionate about supporting businesses to get their Health and Safety right for their business. With a practical approach to Health and Safety that helps business owners rest easy knowing that they are doing everything reasonable to their business to keep both their people and premises safe while also keeping their business running smoothly.
Tristen is originally from Zimbabwe but moved to the UK on a working holiday in 2000 and has never looked back (although travels back any chance she gets), now with 3 strapping Scottish boys to raise there is little free time for hobbies but always time for yoga and fun with the family and friends!
Kimberley Adamson
HR Advisor
Kimberley is an associate member of the CIPD enabling her to give quality advice to her clients as well as supporting the wider team with ongoing cases.
Kimberley has a keen interest in reading and is happiest whilst in the sunshine and socialising with friends and family.
Becky Brown
Finance
Becky keeps the business running smoothly with her financial and administrative skills and plays a key role in ensuring our clients have accurate and relevant information and accounts.  Becky loves creative hobbies like crafting and gardening.
Graeme Wilkinson
Associate Learning & Development Consultant
Graeme is our expert advisor, consultant and facilitator and has successfully delivered Insights Profiling and Workshops to over 200 of our clients.
Graeme is qualified to deliver Insights, MBTI, 360's and has designed, bespoke L&D solutions for many SMEs and Global Organisations.
Rory Pilbeam
Marketing Executive
A fresh and firing QMU graduate pushing for a drive as the HR Dept Edinburgh and the Lothians/HS Dept Scotland's local marketing man. Son of the boss, he's watched Ian build the business over the years, starting in the study beside his childhood bedroom – he know the business inside out, it's story, values and aims to help it continue to deliver professional and personalised service. Like father, like son, he loves his football, music, and travel – in fact that's how he met his Mexican fiancée. Rory is also a Registered Associate Nutritionist (ANutr) and an obsessive foodie.
Peter Murray
Assistant Health and Safety Advisor
Pete is a qualified NEBOSH practitioner who takes a pragmatic approach to health and safety. His background in providing exceptional health and safety standards for a multi-site international business has gifted him the opportunity, not only to travel, but to support and work with people from all walks of life.
Pete spends every free moment he has with his family and enjoys planning days out for his wife and two daughters. Looking for expert HR support?
We can help you focus on your business by taking care of all your human resources needs.
Let us know how we can help or ask about our free initial HR review.
Preventing People Problems
Subscribe to our monthly newsletter
Office Address: 1-3 St Colme Street, Edinburgh, EH3 6AA | VAT Number: 189940449 | Registration Number: SC476281
Copyright © 2007 - 2019 The HR Dept Ltd. HR DEPT is a registered trademark belonging to The HR Dept Limited.