Tom Doherty is the experienced head of an HR outsource business locally and with his team runs The HR Dept Bournemouth and Poole, East Dorset and The New Forest.
What stands The HR Dept out locally is it prides itself on providing hands on practical and pragmatic HR advice and help to local small and medium sized business owners.
There is no call centre, no security password but a team who knows your business and is ready to provide HR advice and support. We build strong relationships with our clients and are there to support their business goals and objectives.
Personally, Tom has considerable HR experience advising a wide range of SMEs from care homes, creative agencies, retail, construction businesses, manufacturers, letting and estate agents, cafes and bars, tourist attractions, IT and financial services businesses.
"We want to deal with clients who value having HR support and see it is an extension of their business. As at the end of the day – We become your HR department."
Whether it's a difficult employee, tricky HR issue or support requirement, The HR Dept can help with our telephone advice line backed by tribunal indemnity insurance (which could cover any unwanted and unexpected legal and tribunal fees), and/or by coming onsite for more direct support.
We support clients on a wide variety of HR issues and areas of employment law such as;
• Ensuring a client has up to date contracts of employment to give to their employees;
• Tailored handbooks to ensure the policies and procedures are clear and up to date;
• Dealing with disciplinary matters, grievances, and dismissals;
• Addressing poor performing employees and how to handle them;
• Handling redundancies;
• Managing TUPE transfers;
• Recruitment services (job descriptions, advertising and interviewing;
• Dealing with sickness absence issues;
• Keeping clients abreast of employment law changes and how it will affect their business;
• Training and development issues;
• Ensuring GDPR compliance.
With a passion to help small business owners, The HR Dept wants its customers to get on with doing what they do best and focus on growing their business, free from HR issues.
The HR Dept covers Bournemouth, The Purbecks, Poole, Christchurch, Wimborne Minster, Ferndown, Verwood, Ringwood, New Milton and Lymington.
Having run a growing SME business himself, Tom is aware of the commercial and HR challenges all business owners' face.
We work with all kinds of businesses locally; we enjoy becoming your HR department and supporting you in growing your business.
If you think it is time to review what HR support you have in place, please do contact The HR Dept Bournemouth, Poole, East Dorset and The New Forest on 01202 023 093 or please email tom@hrdept.co.uk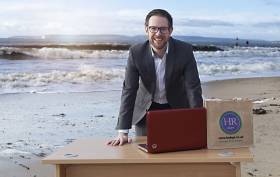 Marie Wood
HR Manager
My name is Marie Wood, I have been an HR Professional for 6 years moving to The HR Dept Bournemouth, Poole, East Dorset and The New Forest from a local business as their dedicated HR Manager.
I am confident in all aspects of people management and HR, with a particular an interest in dealing with investigations, disciplinary meetings, grievance and capability processes. On a day to day basis I am here to help support clients on the phone, email and in face to face meetings. We often undertake reviews of contracts of employment and policies/procedures for new clients.
I am experience in dealing with all areas of HR having always been in a standalone generalist role in the past. I joined Tom's team as an HR Advisor in 2016 and enjoy the variety of the day, meeting new clients and looking after the different challenges that each one may bring.
If you need some HR support, please call The HR Dept.
Sarah Isaac
HR Advisor
My name is Sarah Isaac, I am a qualified HR professional ( MCIPD ) with over 15 years experience in Corporate and SME business environments.
I am confident at managing and resolving conflict in the workplace and implementing best practice. A significant amount of my career has also been supporting companies undergoing change, including restructuring, redundancies and redeployment activity.
As a qualified CIPD Coach and Mentor my interests are in supporting business leaders and line managers to grow in confidence and effectiveness at managing their people and getting the best results for their business. While I have worked as part of large HR teams, the last 5 years of my career have been in a standalone HR Manager role. I recently joined The HR Department to support Tom and Marie with the growing business. I really enjoy the wide variety of clients we support, both with pro-active, preventative work, and reactive problem solving. Looking for expert HR support?
We can help you focus on your business by taking care of all your human resources needs.
Let us know how we can help or ask about our free initial HR review.
Preventing People Problems
Subscribe to our monthly newsletter
Office Address: Suite 27-Discovery Court Business Centre, 551-553 Wallisdown Road, Poole, Dorset, BH12 5AG | VAT Number: 199302580 | Registration Number: 9169823
Copyright © 2007 - 2019 The HR Dept Ltd. HR DEPT is a registered trademark belonging to The HR Dept Limited.