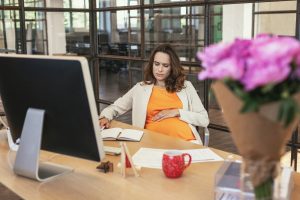 You've signed the card and waved an employee off into parenthood. But what happens next? Perhaps you hadn't thought that far ahead yet, especially if the employee is taking the full allowance of maternity leave which is one year regardless of how long they have worked for you.
However, saying "See you later!" with no further plans for communication during an employee's maternity leave can be detrimental and risky for your business.
Pregnant employees and those on maternity or adoption leave have special protection, yet discrimination still happens. It has been reported that up to 54,000 women are pushed out of their jobs each year due to pregnancy or maternity leave, and that 77% claim their careers have been negatively affected.
The importance of having a policy
Both employer and employees need to understand their rights and responsibilities during the pregnancy or adoption process. Having a policy in place that explains the process fully helps the employee and protects the company from discrimination claims.
What should your policy include?
So let's take a look at what your policy should include before, during and after maternity leave.
Before the event
There are a number of statutory rights such as time off for antenatal visits. Therefore, your policy needs to explain how to book that time off. Detail when to produce the correct documentation such as an MATB1 or matching certificate, and what statutory payments they may be eligible for. The policy needs to explain how much time off they can have and how they could share this with their partner. It should also include what benefits they will be entitled to during maternity or adoption leave.
You also must carry out a maternity risk assessment to ensure the health and safety of the employee during this time.
During maternity leave
Communication is key. Keeping in touch with employees who are out on maternity leave is a great way to promote inclusivity and is an important part of your family friendly policy. Using the 10 "Keeping in touch" days helps to ensure the employee still feels part of the company. It keeps them up to date with changes as you can invite them to training events and meetings. Inviting them to all the company socials sends an important message too.
Returning to work
An employee returning from maternity or adoption leave after six months is automatically entitled to return to their existing role with the same terms and conditions of employment. Those returning after additional leave also have the right to return to the same or a broadly similar role. Your policy needs to explain when they have to tell you if they wish to return early or if they wish to leave. Of course many wish to have a more flexible working arrangement once the demands of childcare hit. And so providing an understanding of how to apply for this is important.
The truth is the whole maternity, paternity and adoption process can be a bit of a minefield for you as an employer. So if you would like help managing this please call us.