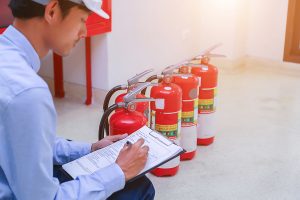 Last year there were three fatal accidents as a result of exposure to fire in the workplace – a thankfully low number. But more broadly speaking, figures from the Home Office show that across England there was a 5% increase in fire incidents compared with the previous year. This shows we mustn't become complacent.
We have stringent fire control measures in the UK. These are enforced either by local fire and rescue authorities, or, if the workplace is a construction site or keeps dangerous substances, the HSE. As such, it is important you know what your responsibilities are when assessing fire risk.
If you control non-domestic premises, for example as an employer, owner or building manager, it is your responsibility to comply with the relevant fire legislation. This means that you will have to:
● Carry out a fire risk assessment of your premises and review it regularly.
● Tell your staff or their representatives about the risks you've identified.
● Provide staff with information, fire safety instruction and training.
When do I need to do a fire risk assessment for my business?
Fire risk will vary from business to business but, a written record of a fire risk assessment must be kept.
You, or the person you nominate, must perform and regularly review a fire risk assessment of the premises. This will identify what needs to be done to prevent a fire and keep people safe.
How do I do a fire risk assessment?
A fire risk assessment is a serious job. It is possible to do in-house, but you may wish to outsource to professionals like us at The Health & Safety Dept. Some key elements of an effective fire risk assessment include:
● Identifying fire hazards. Some obvious hazards include faulty electrical equipment and overloaded plug sockets, but did you know that even a gradual build-up of dust in machinery can cause a fire?
● Recognising people at particular risk, such as the elderly, young children or those with disabilities.
● Evaluating, removing or reducing the risks, such as the removal or safe storage of dangerous substances. You'll want to consider fire detectors and warning systems, firefighting equipment and staff training.
● Preparing an emergency plan including routes, exits and evacuation procedures.
If you keep or use dangerous substances, you'll need to be aware of The Dangerous Substances and Explosive Atmosphere Regulations 2002 (DSEAR), and consider how they will impact your fire risk assessment.
In Scotland and Northern Ireland jurisdiction is devolved but, broadly speaking, the same principles apply. Give us a call if you want to talk about fire hazards specific to your business.
The dangers of not following fire safety regulations
A key risk is failing to properly train your staff. Last year, at an adhesive manufacturing plant, an untrained and unsupervised employee was left to his own devices for unloading and filtering flammable glue products from a mixing machine.
His approach resulted in a spark within a storage container which ignited a fire. The fire subsequently caused an explosion which spread burning glue around the factory. Two people were injured.
The manufacturer was fined £40,000 and ordered to pay costs of more than £8,000 for breaching section 2(1) of the Health and Safety at Work Act. The Health and Safety Executive (HSE) cited poor conditions in the handling, storage and management of risks from flammable liquids and not following safe systems of work.
The majority of fire accidents at the workplace are prevented with good planning. But failing to perform regular risk assessments can have serious consequences.
Want expert advice on fire safety, regulation and risk assessment?
Incidents are low, but that is because it's a risk that is taken so seriously. The above story shows that you could be fined for failing to follow and implement relevant fire safety regulations. In the most serious cases prison could be a consequence and let's not forget the risk to life, property and business continuity.
Whether you are responsible for assessing fire risk, want to implement improvements, or your business is about to exceed the five-employee threshold, our experts are available to support you and your team. We offer guidance on all aspects of fire safety and legal compliance. Call us today to find out how we can help.