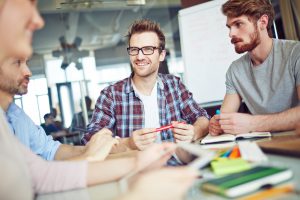 Irrespective of the ongoing Brexit saga, the UK has record levels of employment. This sounds great on the news, but in practice makes it harder to find and keep good staff. Companies must be innovative to stand out from the competition. And a good way to do that is to look at the overall package you are offering.
By 2020, a third of the workforce will be millennials. As with generations before them, they bring new ideas along with new needs from their prospective employers. Quick to adopt conveniences that make day-to-day life easier, they tend to be good with efficiencies, but can come across as impatient when pursuing change or climbing the career ladder.
Meeting the needs of your future workers
Often referred to as the "giving generation", millennials are attracted to companies that demonstrate shared values. Encouraging and facilitating volunteering in the community will be hugely attractive. As will flexible working and the promise of a good work life balance. This can benefit both parties when planned properly.
Although they can be accustomed to job hopping whilst seeking their perfect match, this generation is also mindful of a rising retirement age. Living and working longer is, in their own words, standard.
Pensions Awareness Day is on the 15th September. It is expected to strike a chord with many employees who are already thinking about, and planning for, their future. It will also raise important questions for employers.
Does your approach to retirement planning and auto-enrolment strengthen your remuneration package? With millennials making up a third of your future workforce, it could be helpful to make positive pension planning a key benefit of your retention strategy.
The shortage of occupations list details which professions have a skills shortage. It has recently been expanded so now is a better time than ever to revisit your strategy for attracting and retaining skilled workers. A good range of benefits, which need not cost a fortune, can make all the difference when advertising a role.
Finally, millennials often have a preference for a career path that includes plenty of mentoring alongside planned professional development. Both of which can be achieved through scheduled 121's and flexible learning.
Planning for the future
Whilst employees are thinking about their future, you will also be thinking about the future of your business and who you need in place to drive success.
We have plenty of ideas on people planning and can advise on organisational structure, employee retention and much more. If you're thinking ahead and could do with a second opinion before making important changes, give us a call today.