The HR Dept in South London will provide its clients across Sutton, Croydon and Bromley with tailored human resources management solutions. These solutions will enable them to achieve their primary business objectives and manage out the risk to their business. Customers will be confident that they meet all their statutory obligations as a minimum and that they are working with an organisation that can assist them achieve the highest aspirations for their business and their employees.
The HR Dept in South London also offer a fixed fee recruitment services. Click here for more information.
The HR Dept offer a range of training opportunities for you and your employees. These include in house events, our open workshops or training courses and our free seminars. Click here for our calendar of events and to reserve your place.
In House Training
We can work with you to identify your training needs and tailor workshops and events to meet your requirements and suit your environment.  Sessions normally work best for between 4 -12 delegates and we can run these at your premises or at our training facility in Sutton.
 Please speak to us about any of your training needs which may include:
Any of our Management Essentials Programme modules
TUPE
Managing a Redundancy Programme
Management Skills
Discrimination Awareness
Customer Service
Time Management
Emergency First Aid at Work
Microsoft Office Training
 If you can't see what you are looking for on the list, please do call us to discuss further.
 Workshops and Training Courses
We have a regular programme of workshops and training courses which you can book one or more places at.  Our workshops and training courses are normally held at our training facility in Sutton.  Our current Management Essentials Programme includes a programme of workshops aimed at line managers and supervisors. These are delivered in eight half day workshops, over eight months at our offices in Sutton, with start dates throughout the year. The programme can also be run in house for groups of up to 10.
The programme of half day workshops includes:
Effective Team Leadership
Managing Performance
Recruiting Staff
Discipline and Grievance
Managing Conflict
Communicating with Confidence
Managing Absence
HR Administration
Working through case studies and other 'real-life' examples, participants will receive a host of practical tips. These workshops are aimed at line managers or those who have supervisory responsibilities and day-to-day management of others.
Contact jane.chant@hrdept.co.uk to book your place.

Free Seminars
Our free seminars are held at Jury's Inn, Croydon and at The Warren in Bromley.  The seminars cover at least one HR topic and a practical employment law update.  Delegates take away a pack which includes information on one of the topics.
Have a look at our events calendar for details of the upcoming seminars and to reserve your place.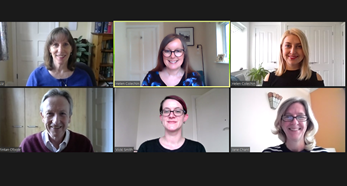 Helen Colechin
Managing Director
Helen has had a successful career in Operations Management and as an HR Practitioner with a range of experience across the private, public and not for profit sectors. Helen demonstrates an ability to understand the legal framework and to develop and implement practical solutions to meet clients' needs.
Fintan O'Toole
Chairman
Fintan has owned and managed The HR Dept in South London for 10 years.  He advises small businesses on all HR issues having over thirty years' experience in organisations across a range of industries and markets.  Fintan is legally qualified and specialises in dispute resolution and complex HR matters such as TUPE.
Maria Kurek
Director
Maria combines her experience of working in-house and as a consultant to give practical advice to clients.  Maria will assist in setting up the second branch of The HR Dept South London, focusing on businesses based in and around the Bromley area.  Maria is an Associate CIPD and has completed Level 7 CIPD Certificate.
Vicki Smith
HR & Recruitment Manager
Vicki has 9 years HR experience advising on recruitment, employee relations and engagement and a wide range of employment law issues. She has Level 5 in HR Management and is an Associate CIPD. Vicki is responsible for managing operations and ensuring that all client matters are dealt with efficiently and in a timely manner.
Jane Chant
Office Manager
Jane has been with The HR Dept for 9 years supporting the company in all areas of administration.  Jane is both diligent and efficient in the management of sensitive information.
Liz O'Toole
Company Secretary
Liz has worked in a variety of business environments with extensive experience in Public Relations. In a change of career, Liz now manages the finances of The HR Dept. Looking for expert HR support?
We can help you focus on your business by taking care of all your human resources needs.
Let us know how we can help or ask about our free initial HR review.
Preventing People Problems
Subscribe to our monthly newsletter
Office Address: 7 Mulgrave Chambers, 26-28 Mulgrave Road, Sutton, Surrey, SM2 6LE | VAT Number: 902136663 | Registration Number: 6062255
Copyright © 2007 - 2019 The HR Dept Ltd. HR DEPT is a registered trademark belonging to The HR Dept Limited.