Outsourced HR services & employment law support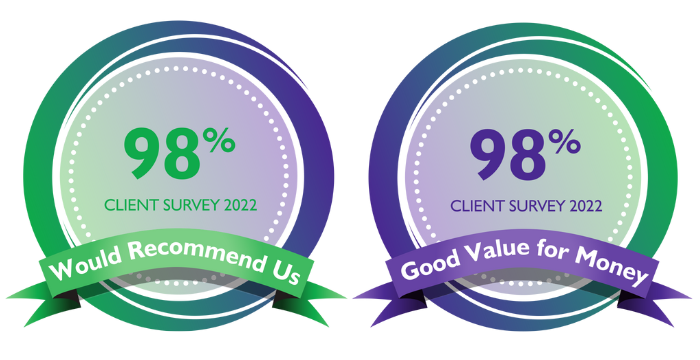 Do you need expert HR consultants in The HR Dept Surrey Hills you can depend on?
You've come to the right place.
From our central base in The HR Dept Surrey Hills our highly qualified and knowledgeable HR experts have a deep understanding of employment law.
Whether you need HR services for support with employment contracts, managing disciplinaries or anything else on your journey as an employer, we can help.
If you are looking to outsource your HR completely or just need help with a one off project, our HR and employment law solutions will support you in achieving your business goals.
The HR Dept monthly advice line provides SME business owners with additional peace of mind to know that they are covered by employment tribunal insurance.
Find out more about the different ways to work with us so you have more time to focus on your business.
As your local HR Dept we support businesses across Woking, Addlestone, Guildford or anywhere in South and East Surrey and surrounding areas.. How our HR services can help you in The HR Dept Surrey Hills
As you embark on your employer journey, you'll no doubt want to know how to stay on the right side of your legal obligations. Tread carefully, employment tribunals can begin here.
You'll want measures in place to ensure your employees are meeting expectations. Don't leave this to chance. Effective management, training and development will see you through.
Taking care of employee well-being will help you avoid bumps in the road. Make sure you know their rights and yours.
Occasionally a roadblock will appear. But it's possible to find a work around if you know which route to follow.
Whether you plan to grow or downsize, you'll need to consider how your employees fit into the roadmap. Be prepared with the correct procedures for critical milestones.
At some point, employees will leave. Some happily move on, or you may need to dismiss. Seek guidance before you act, it's easy to slip up.
We help businesses across
The HR Dept Surrey Hills with their HR issues
HR Consulting Services and Support
At The HR Dept, we provide expert HR consulting services to take care of all of your human resources needs, enabling you to focus all your energy on running your business.
Whether you're a startup, SME or an established brand in your sector, our team of HR experts will help you stay on the right side of your legal obligations, manage employment contracts, disputes and ensure you have a safe and happy workforce. We will support you and your business by putting all the correct procedures in place for you to meet those critical business milestones and grow your workforce.
Whether you need advice on recruitment, payroll & pensions, or you are looking to get your employee health & well-being policies in check, we can take care of it.
Maybe you need guidance on which measures to put in place to ensure employees are meeting expectations. Well, look no further, as we offer a range of effective management, training and development strategies that will help you keep track and stay up to speed.
We can also guide and support you through some of the more challenging employment roadblocks such as employment tribunal insurance, absence management, disciplinary & grievance procedures and redundancies and dismissals.
Whatever your employment needs, at The HR Dept we've got your HR covered.
Why you should work with The HR Dept
Expert Knowledge, Advice and Support - You'll be working with a highly qualified and experienced HR professional, with many years of HR experience. We are dedicated to delivering first-class advice and support to our local business community.
Cost-Effective HR services - Outsourcing your HR can save you time and money and we offer a range of flexible, cost-effective payment options to suit your business needs.
Peace of mind - Our Advice Line is backed by tribunal indemnity insurance. This means that if you have followed our advice from the beginning of your enquiry, unforeseen employment tribunal costs and awards are covered.
Free HR Resources - We offer a range of free HR resources to help you with your daily business needs, including blogs, webinars, Time Sheets, New Starter Forms, Holiday Request forms and Exit Interview templates.
Business and HR news
for The HR Dept Surrey Hills
Preventing People Problems
Subscribe to our monthly newsletter
Office Address: Elm House, Tanshire Park, Elstead, Surrey, GU8 6LB | VAT Number: 240916420 | Registration Number: 10153026
Copyright © 2007 - 2021 The HR Dept Ltd. HR DEPT is a registered trademark belonging to The HR Dept Limited.