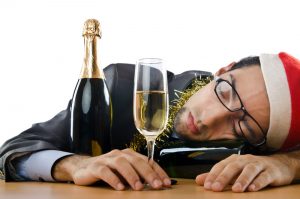 Photocopying bums, badmouthing the boss and drinking too much. Christmas party season is upon us and for some it'll be a night to remember – but for others, one to forget.
It's a great time for staff to blow off some steam, bond outside of work and get to know each other without targets and deadlines looming. But it can end up with uncomfortable conversations afterwards if it gets out of control.
Therefore, we've reflected on some horror stories from Christmases past to put together a few tips on how bosses can put on a great party that everyone will love.
Too many beers can ruin the Christmas cheer
Organising the office party can often be a minefield – Should there be food? A free bar? How will people get home?
Dealing with the fallout from Christmas parties is the bread and butter for our HR experts through December and January, with fights being the most common complaint. After a few drinks, people can become a lot more honest and sometimes professional disputes escalate into a physical fracas.
Across the pond, a business sent out a memo saying the company wouldn't bail anyone out of jail. So they could be home for Christmas, the CEO had previously bailed out several staff who were arrested for drug use – but they wanted to make it clear that it mustn't happen again!
When we think of office Christmas parties, there's often someone photocopying their rear. But one year an ambulance had to be called to help one worker after he fell through the scanner and had glass embedded where it shouldn't be.
An example of how not to do it comes from a recently released song 'The Office Christmas Party':
HR tips to make your Christmas party a success
Here are a few useful HR tips to help you get the best out of your Christmas party:
Remind everyone about their behaviour – You aren't a horrible boss for doing so; you're just making sure you reinforce the rules.
Make sure everyone is included and invited – They can be great team building events and a good way to say thank you for staff efforts over the previous year.
Ensure under-18s aren't drinking.
Be aware of religious sensitivities.
Drinking the bar dry shouldn't be the stated objective of the evening.
If there is an issue, use common sense – Note down what's happened and take appropriate action. Regardless of the situation, don't sack someone on the spot!
Be mindful that Christmas can be a difficult time of year for some people.
Swap out Secret Santa for a Christmas Bake Off.
No mistletoe – It just asks for trouble!
Most events go without a hitch. But if you really are worried about potential workplace incidents, don't ban the party altogether. Why not host it after the New Year is in? You'll still give your team a morale boost, plus many will be doing Dry January by then!
Need HR help?
Fear the fracas? Stressed about scuffles? Good HR practices can help you to prevent them – have clear policies in place and ensure staff understand that the event is an extension of the workplace.
If tensions do boil over, we suggest you seek professional advice and support when launching your investigation.
For advice on having a successful and incident-free Christmas party, contact your local HR Dept.