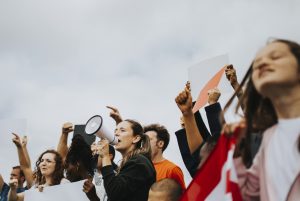 Are you so passionate about climate change that you would be willing to let employees take time off to protest? Earlier in the year, the teen activist Greta Thunberg inspired schoolchildren to bunk off school – sorry, but you can't strike from going to school! And the Unions backing this week's event are calling for adults to support the action.
Even the most supportive employers will have concerns that this may affect business. So how should you deal with it?  In the interests of fairness, would you act the same way if the employee wanted to protest about Brexit or another Donald Trump visit?
Consistency in managing staff is very important. And employees need to understand the rules before deciding to go AWOL, because there must be a consequence. Their motivation is irrelevant.
If they have an approved holiday for their day of action it should be fine. Unless, that is, the media were to show your employee behaving badly whilst loudly proclaiming that they work for you. That could be considered bringing your company into disrepute. Let's hope not.
Following a fair procedure
If they simply don't show up for work and have been talking to colleagues about attending a protest, then the first step is to try to contact them and be sure to log your attempts.
Your absence policy will explain how they should report absence, and you can take disciplinary action if they failed to follow your procedure. However, it is more likely that they will pull a sickie. In this case, a return to work interview must be carried out. Do ring The HR Dept for help in handling this.
Harnessing employee energy
It is wonderful to have staff who are positively engaged in things like conservation and climate change. Perhaps looking at ways the company can support these activities will result in more engaged employees. By feeling that they are making a positive contribution, it may lessen the urge to go join a protest.
Getting a second opinion
If you are thinking of getting involved with a future community event and would like a second opinion on your people planning, give us a call. Equally, if you have questions surrounding unauthorised employee absence, we can advise you on an effective and legal solution.