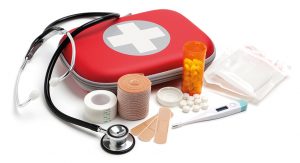 As an employer you have a duty of care towards your staff. And one of the requirements in fulfilling this is the provision of first aid equipment and procedures. Enforcement of this falls under the remit of the Health and Safety Executive.
In 2016/17 over 600,000 injuries occurred in the workplace. So with more than 1,600 injuries happening every single day of the year, we can see why first aid procedures are required.
All workplaces must have some first aid provision. Even in the safest of office environments, where a papercut may appear to be the biggest risk, a first aid box should be present. And on large premises with heavy machinery, a dedicated and kitted out first aid room with trained first aid staff will probably be required. And of course there is everything in between. So how do you judge what first aid measures are right for your business?
Assessing your workplace first aid requirements
When considering first aid provision in your workplace you need to do a first aid needs assessment. There are three broad areas you need to take into account.
The workplace environment – size, type of premises, features, location for example…
The nature of your workforce – How many people work for you, do they have any special requirements, are other people regularly on your premises…
The risks or hazards present – the nature of your operations, presence of heavy machinery, specialist equipment…
When carrying out your first aid needs assessment, you may have to explore the above areas deeply if circumstances call for it.
Think, if your location is in a city you'd have emergency support pretty quickly. But if you are in a remote rural location, it may take much longer for support to arrive – meaning you need better provisions on site.
If it is necessary to have trained first aiders, how will staff absence such as annual leave affect your coverage?
Do all your staff work onsite? Or do you have people travelling around the country? How do you cater for those?
For a small office carrying out routine clerical work, it may be pretty simple. But for more complex businesses it would be wise to get a professional first aid assessment carried out.
It may help to document your first aid needs assessment but there is no legal requirement to do so.
Choosing your first aid provisions
Once you have ascertained the risks and the scale of the first aid provisions you need to provide, it is time to choose your response. As we shall come on to, there are again three areas to look at. But whatever level of first aid provision you choose, it is essential that your first aid procedures are effectively communicated to your staff. Depending on their nature, you may also want or need to record accidents and near misses, so get yourself an accident book.
First aid people at work
The minimum that any organisation should have, is an appointed first aid lead. In a safe environment with no specific risks, this need be no more than someone who takes control of your first aid arrangements and is designated to call emergency services if required.
However, your business may be bigger or have a greater chance of accidents. And in these cases you will want trained first aiders among your workforce. These are people who have undergone proper training to the level identified in your first aid needs assessment. The number of people you have trained up will depend on factors like the size of your business and whether it is spread over multiple sites.
First aid equipment at work
The starting point for any business is a first aid kit. This should be properly stocked at all times. So if it is used, review the contents afterwards for anything that needs to be resupplied. If you have multiple sites, you will need a first aid kit on each site, and if you have large premises you will need to have as many first aid kits as your first aid needs assessment concludes is necessary.
If you have identified specific first aid requirements you may need to supplement a standard first aid box with extra kit such as foil blankets or cutting shears.
Designate individuals to be responsible for ensuring that the first aid kit is where it should be and is properly stocked with in-date supplies.
First aid facilities at work
If you have specific hazards at work which warrant it, or just very large premises, then a first aid room may be appropriate. A first aid room should be dedicated to first aid, so not a part-time broom cupboard! Ideally, it will be properly equipped with a medical couch, hot and cold running water, and be clean and comfortable with good lighting, heating and cooling. It's also sensible to make it easily accessible should someone need to be transported to hospital.
Do you need a first aid needs assessment or training?
For some businesses, getting first aid right will be relatively simple. But if you are unsure of exactly what is required or don't have the time to get it right, then call in professional help. At The HS Dept we have nationwide coverage, so give our expert team a call and they can arrange the help you need to get your first aid procedures in place. Call today on 0345 208 1120.