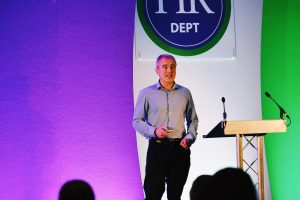 Good people management is the key to increasing UK productivity, according to Ben Willmott, head of public policy at the Chartered Institute of Personnel and Development (CIPD).
Mr Willmott said that a lack of good management could explain why the UK's productivity growth has flatlined since the recession started by the global financial crisis in 2008.
He was speaking at the annual conference of The HR Dept, who provide specialist, outsourced HR advice and support to more than 6,000 of the UK's SMEs.
In his keynote speech to the conference, Mr Willmott said: "The UK is among the worst performers of productivity growth – it matters because that's what will drive sustainable wages and improve the standard of living.
"What's encouraging, however, is that there is increasing recognition that people management is key to improving productivity. It's an idea which is beginning to get increasing traction within Government, who recognise the importance that productivity, particularly in small firms, can have on a struggling economy.
"Fortunately, the SME sector can make improvements in the workplace quite quickly. I think that's going to be at the forefront of policy makers' thinking over the next few years."
Mr Willmott highlighted the national good work agenda, started by a review into modern working practices by Matthew Taylor in 2017, as evidence that there is a growing aspiration to improve the quality of work across the economy.
The HR Dept was one of a select group of organisations which was asked to give evidence to a Parliamentary Select Committee on the issue the following year.
Mr Taylor was guest speaker at The HR Dept's conference in 2017 and was followed last year by Claire Walker, co-executive director of policy and campaigns at British Chambers of Commerce.
Mr Wilmott's appearance completed a trilogy of high-profile speakers at the event, which was attended by more than 70 of The HR Dept's franchisees from around the UK and Ireland.
In a wide-ranging speech, Mr Willmott discussed the various political parties' General Election manifesto commitments to employment, HR implications of dealing with mental health issues in the workplace, as well as the potentially transformative effect of professional HR support for SMEs.
He highlighted and discussed the seven dimensions which go into creating an environment of good work, namely: voice and representation; pay and benefits; terms of employment; job design or nature of work; social support or cohesion; health and wellbeing; and work-life balance.
"Employees are generally quite happy with their employers but bosses are not good at providing feedback and developing people in the workplace," he said.
"That's not typically one of their areas of strength and there's lots of progress to be made here."
Mr Willmott also disputed claims that job security was a problem for the UK's workforce, suggesting instead that many employees positively choose flexibility and non-traditional forms of employment.
"There's a big political debate about casualisation," he said, "but I think the idea that we're all heading for the gig economy is overblown. Around 20 per cent of people are in non-permanent employment and that's the same as it was in 1988.
"What has changed is the make-up of non-permanent employment. We now have 15 per cent of people in self-employment, compared to 13 per cent in 1988.
"Overall, the proportion of people in non-permanent work hasn't shifted, despite all the headlines you might read. The numbers have increased, but that's because the working population is bigger. The structure is the same.
"And on the gig economy, our figures show that the majority of people on zero hours contracts are satisfied, versus 28 per cent who are dissatisfied. So yes, we need to protect the vulnerable but we shouldn't be trying to throw the baby out with the bath water by banning zero hours contract work and telling people the sort of work that suits them. We need to find a balance."
Mr Willmott suggested that alignment of employment status – something The HR Dept has been repeatedly urging Government to act on – needs urgent clarity.
"If most small firms wouldn't know worker status if they ran into a brick wall made of worker status, then that's probably not that helpful," he said. "We know that even among HR practitioners the issue is highly problematic, and it's amplified by the debate over IR35 reforms in the private sector.
"So it's a minefield and we'd welcome the chance to take up that debate with The HR Dept and present it to whichever Government takes this forward."